Create your museum design inspired home
Bearing the mark of human interaction
POST IS UNDER DEVELOPMENT
I feel I have been very fortunate to work for just over a decade with the Ashmolean Museum's internationally renowned collection. The Ashmolean is a University of Oxford museum of art and archaeology. Founded by Elias Ashmole in 1683 it is widely recognised as the first modern museum.
The Ashmolean Museum's permanent galleries and exhibitions tell human stories across cultures and across time.
Parallels can be drawn between the museum and the home environment. Our own homes are full of things we have collected or created over the years. My home is a time capsule of mine and my family's life story. Everything is of value to us in some way- practical/decoration/historical interest- we either have a connection to or a need for everything in our home. We even have saucepans which were gifted to my husband and I by his mum when we got engaged in 1998 two weeks after we met- that's connection and need.
I really do just go on feeling when I am buying for the shop (and myself). I must have a connection to it and then I display it in a way that shows how it is special to me- this is where the museum design bit comes in. My hope is that you will be inspired by the way I display pieces and that you feel a connection to or need for the some of them.
I have an eclectic taste and seem to like something from each period in art and design history. This may be because, in my museum exhibition design career, I have design interpreted many different cultures, moments, stories, and artists/art movements. Namely, ancient Egypt, Greece, the Middle East and the devastation of Pompeii contrasting with the displaying of works of the Pre-Raphaelites, Stradivarius, Cezanne, and Warhol. I endeavour to create exhibitions that are playful (when appropriate), elegantly styled, striking, and unexpected- it is important to me that the space provokes a reaction which in turn promotes engagement.
I am therefore drawn to what sparks a reaction and what makes me smile. There are countless items that remind me of an exhibition I have worked on. I find objects of antiquity particularly intriguing – I only wish I had the wallet to buy everything I love! Actually a period I am often drawn to is Art Deco (1920s-30s) which was part influenced by the artefacts of ancient Egypt largely due to the discovery of Tutankhamun's tomb by Howard Carter in 1922. Indeed, I was lead designer for the Ashmolean's 'Discovering Tutankhamun' exhibition, so it stands to reason why I have a penchant for deco. I purchased a gorgeous Deco standard lamp (SOLD) and a large scale vintage Deco style pierrot ceramic sculpture.
Why not describe 3LD Interior design shop as bohemian style?
I could straight forwardly describe the 3LD interior design shop as Bohemian interior design style (and have been doing for the first 6 months of trading) but then it occurred to me that 'Bohemian' conjures up one word to me- unconventional.  The Bohemian interior design style, which has been on trend for a while, is therefore an interpretation of what a Bohemian home can look like. It's certainly inspiring but it represents what I have been doing for years- my environment being an expression of me and not me following a trend. I recommend a book which explains what I am talking about titled 'The Maverick Soul'. This richly illustrated book opens the doors to 25 authentic bohemian homes who have lived and breathed their creative practice for many years and this book wonderfully shows how their home environment has become the embodiment of them.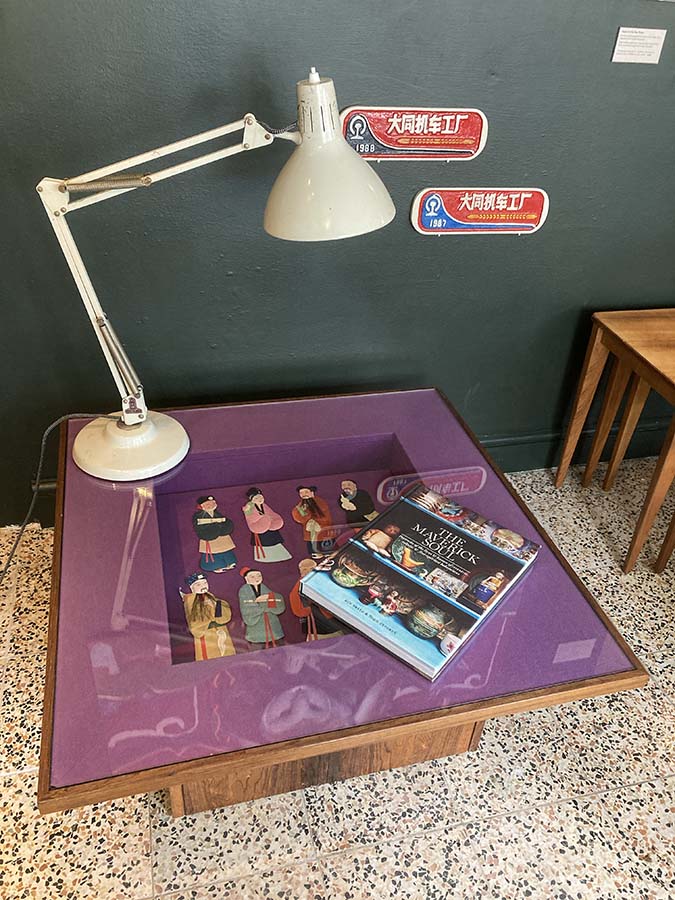 Don't get me wrong- I have had phases thinking I should be following the latest design trends- be it clutter free, sleek contemporary Habitat/Conran modernism in the 90's to mid-century/ retro in the early 2000s. The creation of trends though is a fundamental part of art and design history. Where would we be without the Bauhaus movement and modernism and the precursor Art Deco for example. A movement begins with creatives and then it is adapted by the mainstream for commercial design and manufacture where it becomes more accessible.
Most art and design styles continue to be admired and collected by those who really love them long after the trend has died and thank goodness they do! We have a wonderful gigantic pool of pre-owned things that represent a moment in time and bear the mark of human interaction.
Creativity comes from breaking the boundaries- going to a place you are uncomfortable with and making it comfortable. I went to what I call my 'melancholy' place when I decided to branch out and start the interior design shop. Whilst trying to fathom what my interior design style is, I hooked onto the Bohemian style trend as it appeared to fit what I do and has mass appeal. Something, however, didn't feel right. Following a great deal of soul searching I realised that the answer to my problem was within me all the time. I feel like I have emerged from a time capsule suspended high in the air (I have vertigo) clutching a carefully selected set of life experiences and skills.
3 Legged Duck is dedicated to creating a home with soul!
Read on and I will explain how.