Museum exhibition design
Green design
It is possible to be green when you design. With almost two decades working on a variety of museum projects I know that making compromises, being resourceful and making appropriate choices are all part of the problem-solving process. When I embarked on trying to be more eco-friendly in my work, I discovered that the principles remained the same with a simple shift in emphasis.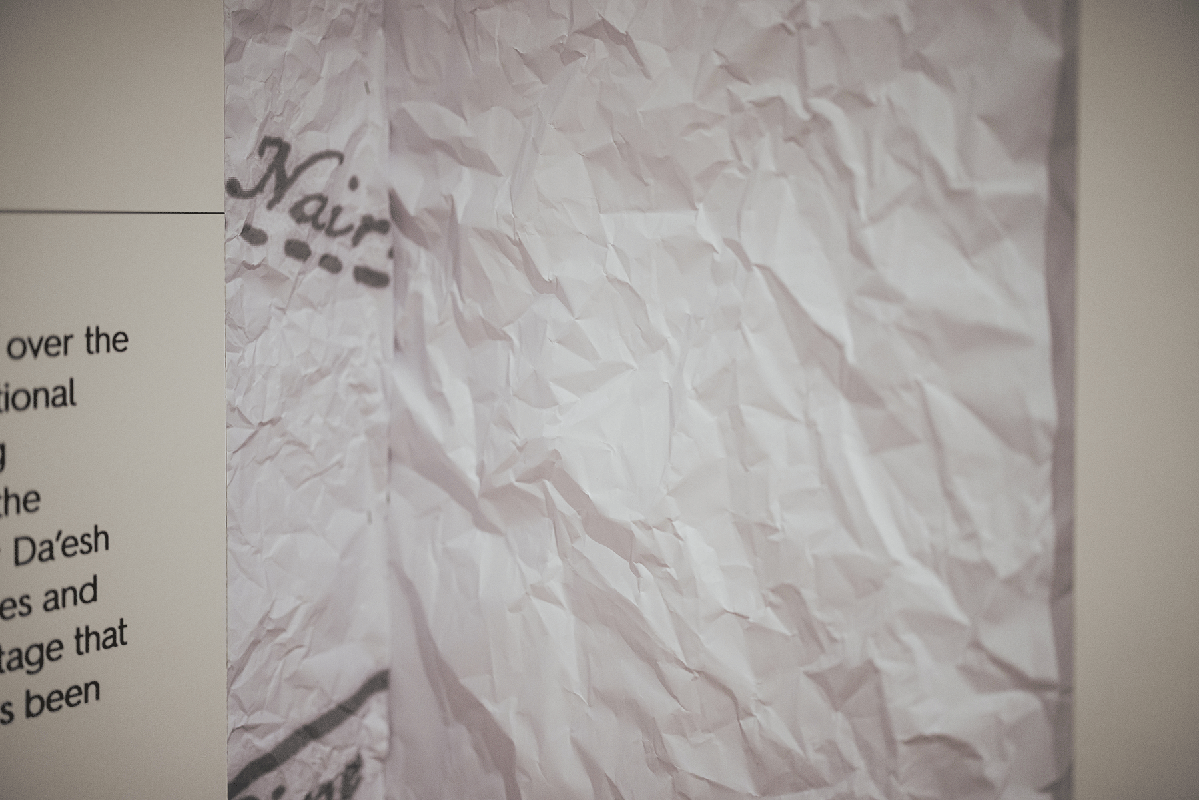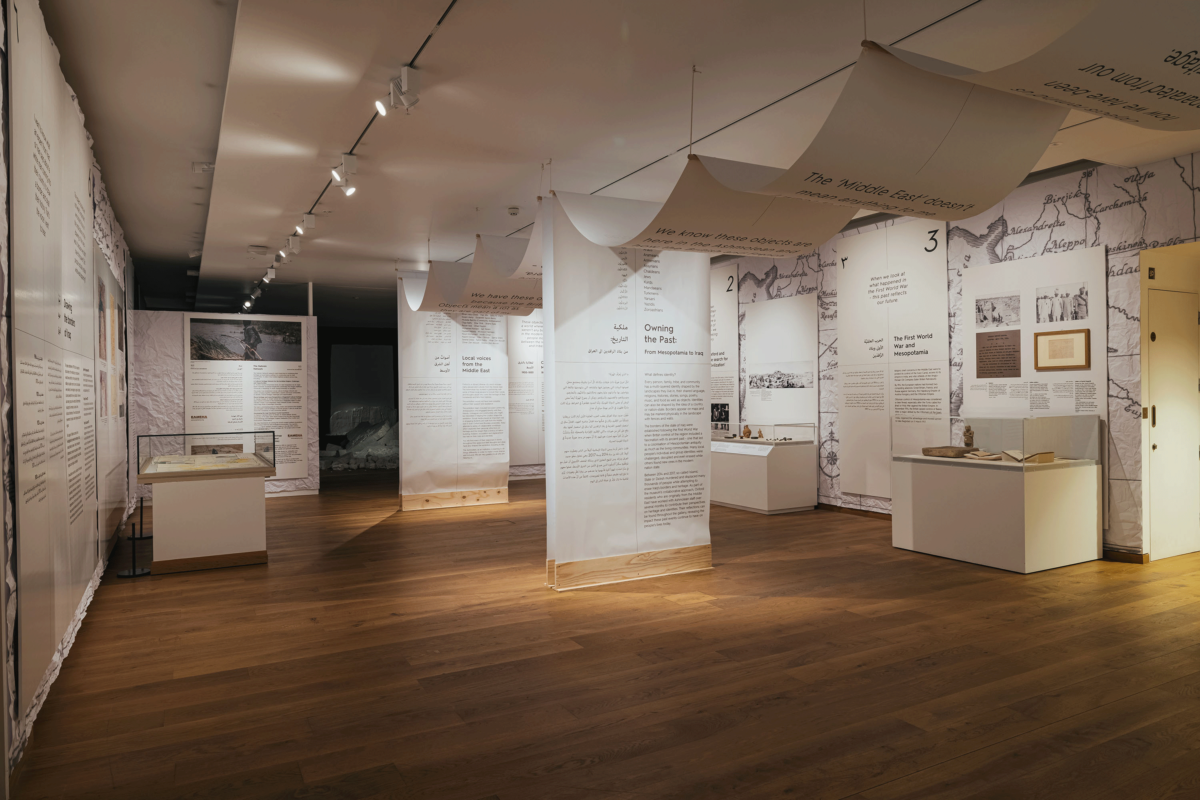 Here are my green exhibition design objectives:
Be prepared to make design compromises.
Reuse existing display components- e.g., display cases, plinths and IT equipment.
Minimise the carbon footprint by sourcing materials/products locally/UK.
Use recyclable material produced in a sustainable way.
This set of aims becomes an integral part of the design brief.
Achieving greener solutions requires collaboration and shared ethos.
I was commissioned to design Owning the Past exhibition. From the outset the Ashmolean were committed to working with me on making more eco-friendly choices.
Owning the Past is a co-produced community/academic research project which re-examines how the end of the First World War profoundly shaped the present-day Middle East.
This exhibition is narrative driven with minimal object display. I could easily identify existing display cases to reuse. The main issue was going to be sourcing sustainable and recyclable materials to print to.
In order to create an engaging exhibition with an underlying interpretive design structure, the physical foundations of the exhibition need to be born from the narrative content. With Owning The Past, the key moment, in a sequence of historical events, is the drawing of borders on maps in the early 20th Century. The reaction to this event is powerfully illustrated through a community voice.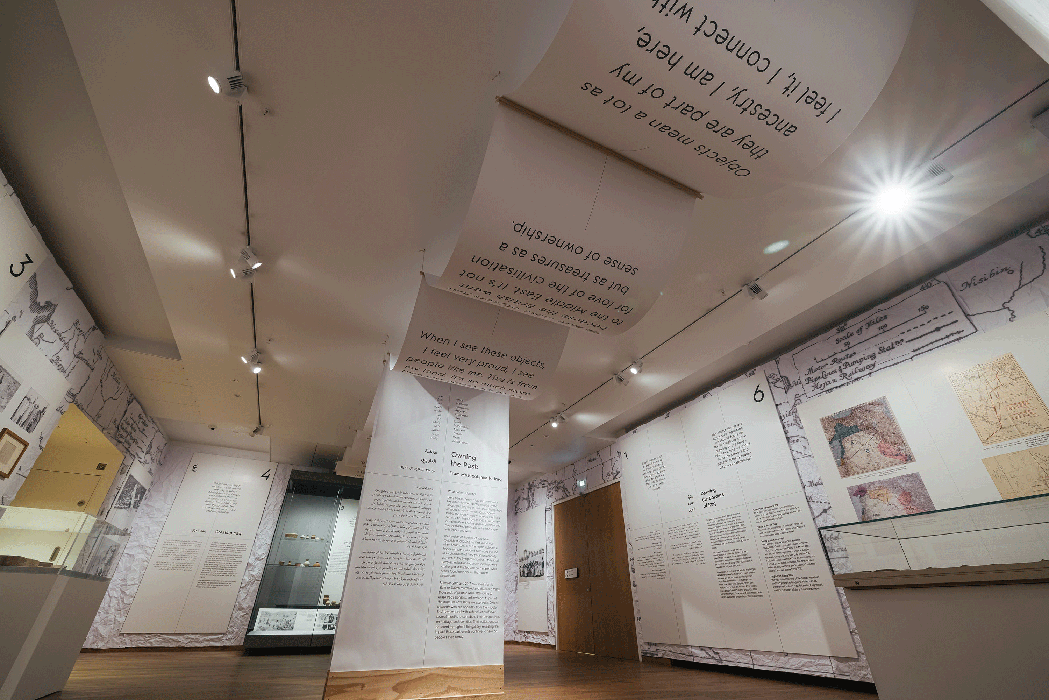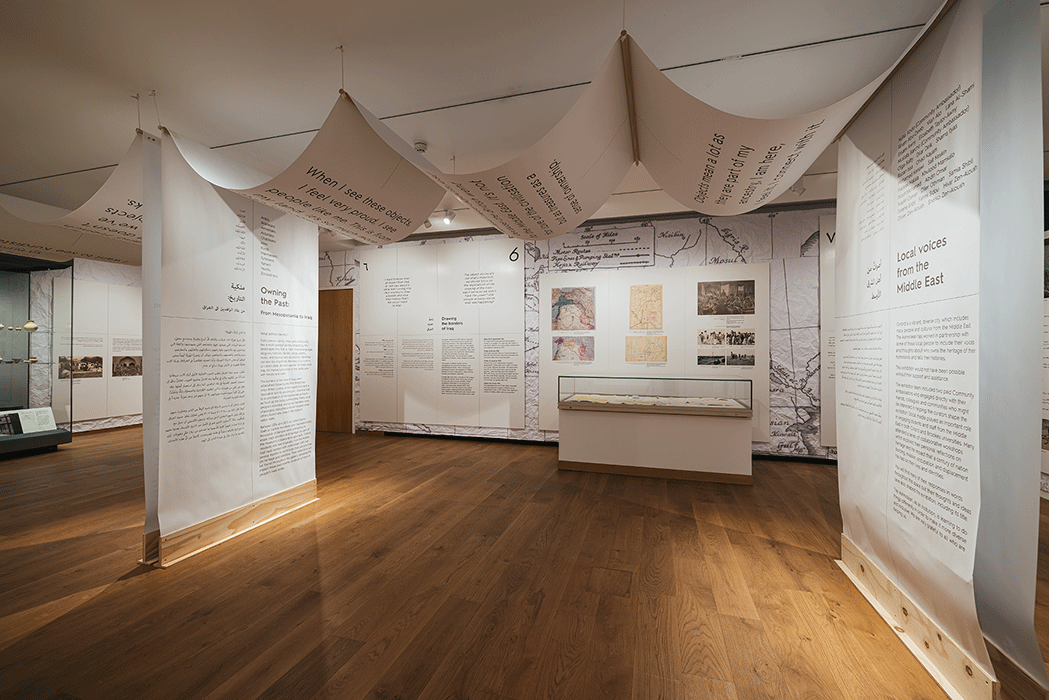 A central installation piece, to carry the community voice, was placed at the heart of the gallery in the form of a large-scale paper wave sculpture. I created a simple model by re-purposing packaging materials which was fixed with blue tack (see image left). This model was made for design development (not presentation) purposes and it was great to think that it could be easily recycled when no longer needed.
I engaged early in the process with the appointed exhibition printer, Daniel Collins (The Creative Key), whose knowledge and experience were invaluable in understanding production techniques and sourcing materials. I learned that in order to achieve this initial design for the central installation, the shape would need to be formed involving plastic based materials and heat. This approach did not fulfil my green aims. I needed to look at how a length of paper would simply hang on dowels with minimal fixings. The solution was found through internet research (https://www.gfsmith.com/colorplan-cloudscape).
Initially, I considered graphic wrapping wall mounted MDF panels with paper, but the introduction of adhesive would have compromised being able to recycle it. Dufaylite (a sustainably sourced and recyclable product) was designed to be direct printed to. Furthermore, 10mm Dufaylite is about the same cost as 18mm MDF. Manufacturers are developing new products all the time due to the increasing demand for more eco-friendly materials. I try not to have a pre-conception that being green is more expensive, and I make better choices to make it affordable.
For additional wall graphics I was looking to avoid using cut vinyl. Map printed crumpled wallpaper provides direct reference to the ever-changing (often rugged) landscape of the Middle East. The architect's draft paper was stapled so that it could easily be removed and recycled.
With careful planning, an experienced production team and installation expertise we achieved an exhibition which is stimulating and engaging. I am pleased that approximately 80-90% of the display components will be recycled or reused. I am working on greener solutions for incase graphic panels and temporary walls. Through working together with a shared mindset and a commitment to green design, we can continue to learn and make better choices.